Congratulations to Siddhartha Mukherjee who was awarded the Pulitzer Prize in general non-fiction today for his book "The Emperor of all Maladies". I read this book a few months ago – and loved it – so I am so happy to hear that this amazing work has been awarded such a prize. I actually read most of this book in a single voracious reading session on a eleven hour flight back from Ghana – even passing on the movie….this prize is well deserved.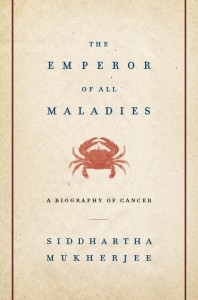 In this book, Dr. Mukherjee, an oncologist from Columbia University, has crafted a captivating historical account of what is perhaps the most insidious illness ever to have afflicted humankind: cancer.
It takes us from Hippocrates to Herceptin with stops along the way in World War II chemical factories, the Massachusetts General Hospital, and the upper echelons of New York City society. We meet the good guys in this war, including William Halsted, a radical surgeon who pioneered the field of surgical oncology, Sidney Farber and Einar Gustafson (aka "Jimmy") who helped make cancer a health priority, and nobel prize winning scientists like Harold Varmus, who elucidated some of the greatest mysteries of this disease. We meet its victims, from loving mothers to some of the greatest cancer advocates. We learn about the trial and error process that was used in the development of chemotherapy and case control studies that eventually linked smoking to lung cancer. We learn about how cancer research helped to accelerate HIV research and vice versa. This book weaves together basic sciences, clinical medicine, epidemiology, and history in one volume – an impressive accomplishment.
But as engrossing as the book was to read, I also found it incredibly depressing. Throughout I was baffled by how little we know about the disease and how much of current practice is based on simply guesswork. It was so unsatisfying. Plus, as someone involved in global health research, I kept asking myself how current treatment protocols will ever be adapted health systems in developing countries, where millions of people also fall victim to this disease every year. It seems hard to imagine.
But, the book was great- a must read for anyone passionate about health issues.
Share on Facebook
4 Responses to "For once, I read a book before it won the Pulitzer Prize!!"