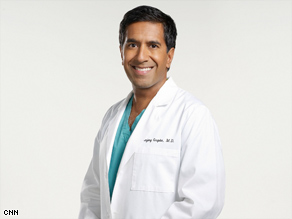 Forget the crisis in the middle-east, forget the cholera outbreak in Zimbabwe (it seems we have all forgotten about it anyway), forget the crisis in the Congo (recurring theme?), here is some news that we can all get excited about. My favorite doctor-turned-CNN medical expert-turned embedded Iraqi correspondent is up for the top public health job in the country.
That is right, CNN has leaked that Dr. Sanjay Gupta (paging..paging..paging Dr. Gupta) is being considered to become the next Surgeon General of the US in the new Obama administration. Honestly, I think this might actually be a really great thing, why?
1. He is really smart, cheese aside, this guy really knows what he is talking about. He was probably a really good neurosurgeon before he started at CNN,
2. He gets global health, see my previous post.
3. He is an excellent communicator. The key challenges in global health are generally less about the science but rather how do you communicate the science to people and make them want to do it,
4. How better to raise the profile of public health in this country and abroad than to have a real celebrity running the show? I can see it now, special shows, guest starring Anderson Cooper and Anjelina Jolie, perhaps a visit to Ben Affleck in the Congo….
I for one would like to start the Dr Gupta for Surgeon General club (SG for SG…I like it!). If nothing else, one day I may not even have to explain to 90% of the people I meet what public health is anymore!
Share on Facebook